Senior Championships
May 28-29, 2022
* Matches are Best of Three for all round-robin play and the finals.

Boys & Girls Volleyball Showcase
Click HERE to book the NBIAA official hotel partner in Fredericton.
Host: NBIAA
Site: Grant Harvey Centre
600 Knowledge Park Drive, Fredericton
Email: nbiaa@gnb.ca
Click HERE for the full schedule and HERE for more detailed information.

AOTV is proud to bring you the NBIAA Senior Volleyball Championships, LIVE from Fredericton! To view the pay per view webcasts, click the image below!
Saturday Pass $10
Tournament Pass $15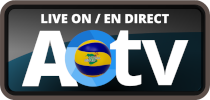 Participating Teams:
Senior Boys
Division I
NE #1: Régionale-de-Baie-Sainte-Anne - RBSA
NE #2: École secondaire Népisiguit - ESN
SW#1: École Sainte-Anne - ESA
SW#2: Leo Hayes High School - LHHS

Division II
NE #1: Miramichi Valley High School - MVHS
NE #2: École Clément-Cormier - ECC
SW #1: Hampton High School - HHS
SW #2: Woodstock High School - WHS

Division III
NE #1: Stanley Consolidated School - SCS
NE #2: Dalhousie Regional High School - DRHS
SW #1: Hartland Community School - HCS
SW #2: École Samuel-de-Champlain - SdeC

Senior Girls
Division I
NE #1: École L'Odyssée - ODY
NE #2: École Mathieu-Martin - EMM
SW #1: Fredericton High School - FHS
SW #2: Leo Hayes High School - LHHS

Division II
NE #1: James M. Hill High School - JMH
NE #2: Poly. Louis-J.-Robichaud - LJR
SW #1: Nackawic High School - NHS
SW #2: Woodstock High School - WHS

Division III
NE #1: Dalhousie Regional High School - DRHS
NE #2: Minto Memorial High School - MMHS
SW #1: Harvey High School - HHS1
SW #2: Hartland Community School - HCS

Division IV
NE #1: Régionale-de-Baie-Sainte-Anne - RBSA
NE #2: North & South Esk Regional School - NSER
SW #1: Tobique Valley High School - TVHS
SW #2: McAdam High School - MHS
Senior Boys Champions
Division I: Leo Hayes High School
Division II: Hampton High School
Division III: Hartland Community School
Senior Girls Champions
Division I: Fredericton High School
Division II: Nackawic High School
Division III: Harvey High School
Division IV: Tobique Valley High School